TWO kids 10 & under eat FREE with purchase of one adult buffet meal or equivalent, and a kid's beverage. The buffet features kid-friendly favorites including chicken tenders, corn dogs, and pizza; along with our regular buffet options including carved roast beef and sirloin steaks.
TUESDAY
All You Can Eat Steak & Shrimp
In addition to our regular buffet options, dine on all the fried shrimp, steaks made to order, haddock, catfish, seafood alfredo, clam strips, and carved ham.
Create your own pasta dish with your choice of meat, toppings and one or more of our signature seven sauces, stuffed shells, Italian sausage, chicken parmesan, spaghetti, and more!
Feed your BBQ craving with smoked BBQ ribs, pulled pork, & chicken. Also featuring carved ham with our traditional buffet choices.
Enjoy your seafood favorites including fried shrimp, peel-and-eat shrimp, haddock, catfish, seafood alfredo, clam strips, & more. The buffet includes our regular meats including carved roast beef, steaks, and fried & baked chicken.
SATURDAY
Dinner (11am - 9pm)
Enjoy your usual buffet favorites plus specialties including country fried steaks, pork, and sauerkraut, BBQ ribs, sirloin steaks, carved roast beef, & homemade macaroni and cheese.
SUNDAY
Dinner (11am - 8pm)
Feast on a traditional Sunday meal including slow roasted turkey, baked and fried chicken, chicken livers with onions, pork & sauerkraut, & carved ham.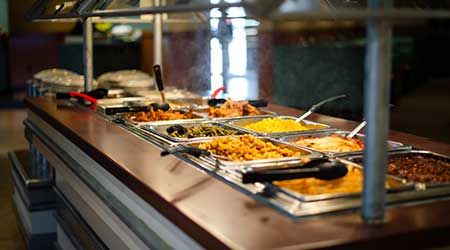 Hundreds of options to choose from!
*Not all items appear on the bar at the same time. Call ahead to see whats cooking*
CHICKEN LIVER W/ONIONS
BEEF LIVER W/ ONIONS
BAKED CHICKEN
FRIED CHICKEN
PORK & SAUERKRAUT
SAUSAGE W/ PEPPERS & ONIONS
MEATLOAF
MEATBALLS W/SAUCE*
HALUSKI
MASHED POTATOES
VEGETABLES
Corn, Green Beans, Carrots, Peas
STUFFING
ROAST TURKEY W/ GRAVY*
PORK CHOPS
FRIED FOODS
French Fries, Onion Rings, Fried Catfish, Fried Haddock, Fried Shrimp
SKILLET LASAGNA
PIZZA CASSEROLE
BUFFALO MAC & CHEESE
RED POTATOES W/ PARSLEY
SMOKEHOUSE BEANS
COUNTRY-FRIED STEAKS W/ GRAVY*
STUFFED SHELLS*
SALMON CAKES*
CORN MUFFINS
HAM N' DUMPLINGS
CHICKEN BROCCOLI ALFREDO
POT ROAST
SPINACH
BAKED POTATOES
HOT WINGS
ROAST BEEF W/ GRAVY
BUTTER NOODLES
HUSH PUPPIES*
SEAFOOD ALFREDO*
STEAMED SHRIMP*
BAKED WHITEFISH
STEWED TOMATOES
HOMEMADE MACARONI N' CHEESE
SCALLOPED POTATOES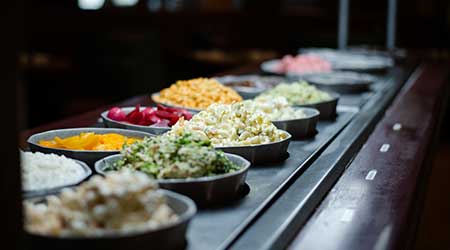 Fresh Salads & Fresh Fruit
APPLE SALAD
BROCCOLI SALAD
MACARONI SALAD
POTATO SALAD
CUCUMBER SALAD
COLESLAW
COTTAGE CHEESE
HONEYDEW
CANTALOUPE
WATERMELON
PEACHES
PEARS
ASSORTED PUDDINGS
JELL-O
FRUITED JELL-O FLUFFS
LETTUCE & MIXED GREENS
SALAD TOPPINGS
Tomatoes, Green Peppers, Red Onions, Sliced Cucumbers, Sliced Mushrooms, Ham, Cheese, Black Olives, Sunflower Seeds, Cranberries, Hard Boiled Eggs, Carrots, Mild Pepper Rings, Raisins, Green Onions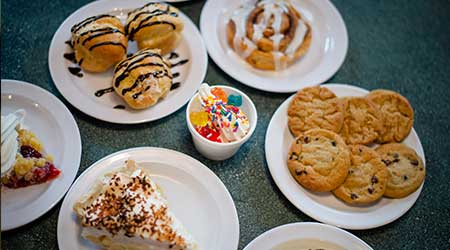 PIES
Coconut Cream Pie, Banana Cream Pie, Chocolate Cream Pie, Other Options may be available.
HOMEMADE CINNAMON ROLLS
HOMEMADE PINCH-ME BREAD - $18
POUND CAKE - $19.50
COOKIES
Chocolate Chip Cookies, Sugar Cookies, Peanut Butter Cookies
COBBLERS & CAKES
Cheesecake, Cherry Cobbler, Apple Cobbler, Blackberry Cobbler, Peach Cobbler
CHOCOLATE & VANILLA ICE CREAM
BREAD PUDDING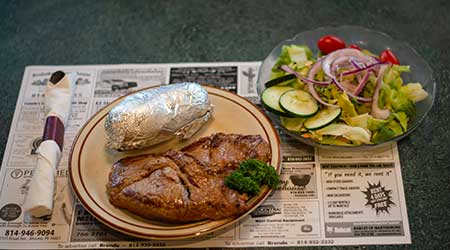 The areas best Specialty Bar
SMOKED BBQ RIBS*
SMOKED WINGS*
SMOKED PULLED PORK
CARVED HAM*
CARVED ROAST BEEF*
SWEET POTATOES *
HAMBURGERS
TACOS
BAKED POTATOES
PIZZA
SIRLOIN STEAKS*
GRILLED CHEESE
TOMATO SOUP
TUNA MELT
CHICKEN SALAD
TACO SALAD
FLAT-BREAD SANDWICHES
Monday - Thursday
4:00 PM - 8:00 PM
Adult $13.49
Senior (60+)$12.99
Friday
4:00 PM - 9:00 PM
Saturday & Sunday
11:00 AM - 9:00 PM
Adult $14.99
Senior (60+)$14.49
Friday - Sunday
7:30 AM - 10:30 AM
Adult $10.99
Senior (60+) $10.49
Monday - Friday
11:00 AM - 4:00 PM
Adult $10.99
Senior (60+) (11:30 AM - 1:30 PM) $10.49
Senior Special* (1:30 PM - 4:00 PM) $10.90
*Includes Drink
3 & Under Eat Free
4-10 Years $6.49
11-12 Years $8.99
Pepsi Products $2.59
Pepsi | Diet Pepsi | Caffeine Free Diet Pepsi | Dr. Pepper | Pink Lemonade | Fruit Punch | Mug Root Beer | Mountain Dew | Diet Mountain Dew
Coffee & Teas $2.59
Coffee | Decaf Coffee | Hot Tea | Sweet Tea | Unsweet Tea | Brisk Raspberry Iced Tea
Milk & Juices $2.69
Whole Milk | 2% Milk | Skim Milk | Chocolate Milk | Apple Juice | Orange Juice | Grape Juice | Tomato Juice
Kids Beverages $1.59